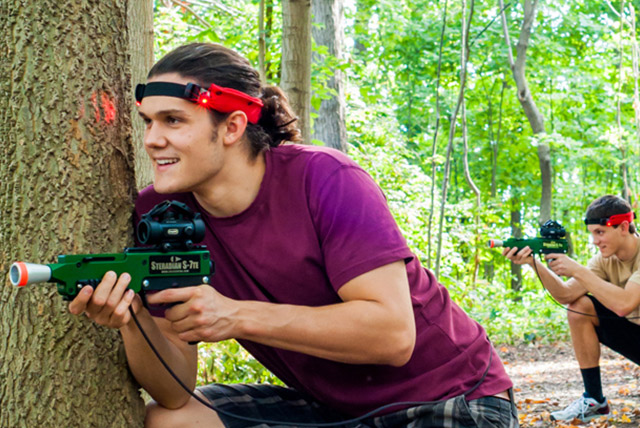 Outdoor Laser Tag
Outdoor Laser Tag is the perfect hybrid of indoor laser tag and paintball where we take indoor laser tag up a notch. You will experience the mission specific games that paintball offers, but without the mess or pain, but intensified adrenalin. Each one of our guns are state of the art capable of hitting targets as far as 375 meters away. It closely resembles paintball, however no flying paintballs and ideal for would-be paintballers and the young and less brave.
During outdoor laser tag players have specific functions roles, duties and titles and placed in teams. During missions you might be the commander or next time you might be the sniper trying to take out the commander. Regardless of roles in outdoor laser tag, it is an experience that always exceeds expectations of players.
Outstanding and realistic sets include our Zombie Tower, 1st World War Trenches, Jungle Zone, Star Wars, Wild West City and more. Experience high octane urban warfare with crumbling high-rise buildings in war ravaged cities and deformed landmass or choose a tropical jungle.
Indoor Laser Tag
Our indoor laser tag is just as much fun as outdoors, but a lot faster and in most instances more difficult for beginners with less hiding space, but the safety of skulking behind obstacles placed to ambush opponents. From blackened unlit spaces, crawling spaces and lofts to Death Match Games and the "Kill House" we assure great fun. Close quarters fighting against "enemies" killing as many as possible while avoid getting hit are excellent for itchy trigger fingered players.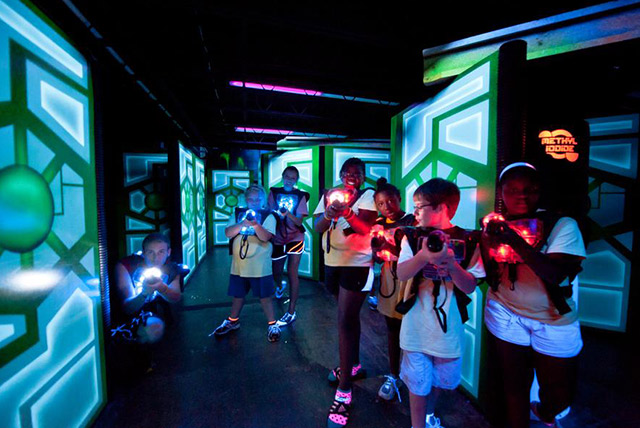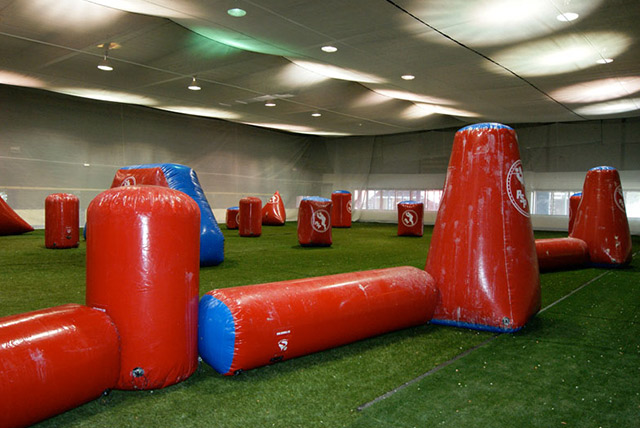 Indoor Paintball
Paintball is one of the world's largest and fastest growing sports in various variations like Speedball, which is fast or Woodsball, the natural military variant. The huge appeal of paintball is its incredible diversity with no two paintball fields ever the same. Paintball has absolutely no limits and that is something which we embrace completely at Emla-Laser.
Out indoor paintball or speedball as many refer to it is more controlled and ideal for beginners with its shorter games and quicker movements. Our indoor paintball tournaments are popular both for corporate events and parties especially when players prefer the "cleaner, safer" environments.
Outdoor Paintball
Incredibly popular with our many playing fields that are divers and exceptionally laid out we recreated to resemble historic battlefields and futuristic scenes from your favourite games. From trees and shrubs, bushes, ditches, netting, tyres and wooden pallets we continuously change our scenarios and optimize it for special occasions and event specifics. Are you releasing a new movie with your production company?
What better way to introduce and launch it that playing it out in one of our specially optimized fields that we create specially for events to suit clients. One of our largest appeals and attractions are the fact that we always change our playing fields and have never had a player come back twice to find himself or herself repeatedly playing a familiar game.
All players are issued with protective clothing including barrel sock, neck protectors and masks with safety of players our priority and staff always ready to guide new players.