Emla-Laser host any event from small groups to large corporation meetings during private or working hours. We take you from the boardroom to the battlefield in one move. We take any occasion and turn it into exciting combat simulation for all genders, abilities and ages. Our facilities aimed at corporations of all sizes boast three large boardrooms and Wi-Fi connectivity.
Professional catering available with buffet lunches and dinners served during your event and discuss your combat requirements with us according to your needs. From two hour missions, half or full day with refreshments served throughout the day, we make sure it is memorable and fulfilling.
Emla-Laser Corporate Functions
Our corporate functions are excellent for your staff to grow and know each other outside the office with great results. From small companies to large corporations and intimate get-togethers we cater for any event size.
From letting your staff blow off steam from their regular day job, to practice and perfect planning, strategizing or follow-through allow them to play one of our scenario based games. Each one of our scenario based games, from the Zombie Tower, Star Wars, Tropical Jungle and Invasion games and more we offer more life-like, strategic and interactive experiences.
Corporation of any background only benefit from playing at our facility. Emla-Laser offer everything to ensure your day will be an experience you would love to come back for and ensure it being a resounding success.
TEAM BUILDING
We have the ideal facilities to offer corporations the opportunity to challenge company employees and let them work as a team. Aside from multi-activity days do we also have morning, afternoon or full-day missions. With both indoor and outdoor spaces our laser combat is great for groups of mixed ages, genders and capabilities with each one playing a part. From being part of the defence, assault team, advance scouts, snipers anyone playing will experience their level of adrenalin.
Team Building clients can expect, learn and experience:
Safe and fun stress relieve
Honesty and trust
Time management/preparation/planning
Excellent ice breaker for any company level
Staff competition
Problem solving skills
Leadership promoting
Interaction and communication development
Social interaction and camaraderie's between departments and staff members
Taking staff from comfort zones
Leadership identification
Crises management
Our experience have given us the insight, professional experience and knowledge to realize that every teambuilding and corporate client has different requests and needs. Therefore are we happy to accommodate your questions and requests and customize our games and scenarios to suit your specific event.
Private Parties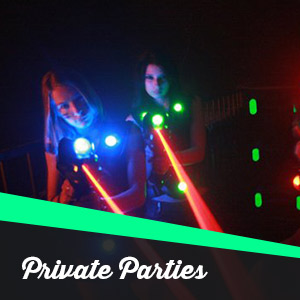 Our private parties, special days like anniversaries, school and collage outings, stag parties, hens parties, sports teams, recruitment offices and more are something we proudly present with immense success. Each one of our professional staff will help all ages and groups sizes make their day memorable. If you want to experience the games you play on your computer, X Box or PS3, then you should play one of our scenario based games.
Our events offer you tons of excitement, fun, laughter and adrenalin rushing like no other sport. Become the rebel by rising up against Star Wars Empire or battle alongside the Jedi's against our staff who are in Star Wars character suits to fight this awesome realistic landscape. Take another twist and play our Call of Duty with your friends against our staff or playing in teams against each other to make your special party even more fun and exciting.